Adjectives are words that describe the qualities or states of being of nouns: enormous, doglike, silly, yellow, fun, fast. They can also describe the quantity of nouns: many, few, millions, eleven. Adjectives tell the reader how much or how many of something you're talking about, which thing you want to be passed to you, or which kind of something you want.
Adjectives come in three forms:

Absolute adjectives describe something in its own right. An adjective is a word that describes a noun, giving extra information about it.
Comparative adjectives are used to compare a noun to another noun such as this truck uses more gas than this car. Given below are the examples of Comparative adjectives:
| | | |
| --- | --- | --- |
| Angry | angrier | Angriest |
| Anxious | more anxious | most anxious |
| Big | Bigger | Biggest |
| Brave | braver | Bravest |
| Bright | brighter | brightest |
| Broad | broader | broadest |
| Calm | calmer | Calmest |
| Cold | colder | Coldest |
| Cool | cooler | Coolest |
| Curly | curlier | Curliest |
Sentences with Comparative Adjectives
My house is bigger than yours.

Your grade is worse than mine.

The Pacific Ocean is deeper than the Arctic Ocean.

You are more polite than Joey.

My brother is taller than me, but he is younger, too.

A rose is more beautiful than a daisy.

The Earth is larger in diameter than the moon.

A pint is less than a quart.
Superlative adjectives are used to compare three or more nouns and show which is best such as hot, hotter and hottest.
Sentences with Superlative Adjectives
I can't find my most comfortable jeans.

The runt of the litter is the smallest.

Jupiter is the biggest planet in our Solar System.

She is the smartest girl in our class.

This is the most interesting book I have ever read.

I am the shortest person in my family.

Jerry is the least worried about the game.

That was the best movie ever.
Adjectives with Irregular Forms
Some adjectives have irregular forms when made into comparative or superlative adjectives. They do not ads an "er" or "est" and they don't add the words more or most. In fact, in some cases, a whole new word is used.
Here are some examples with the adjective first, then the comparative adjective and then the superlative adjective: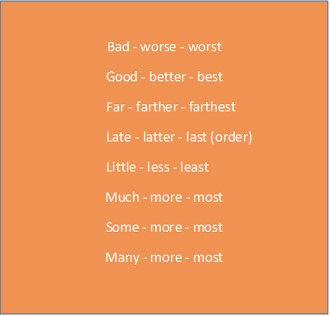 Recap
Adjectives come in three forms:

absolute, comparative

and

superlative

.
Examples of Comparative adjectives:
Angry - angrier - angriest
Anxious - more anxious - most anxious
Big - bigger - biggest
Brave - braver – bravest
Examples of a superlative adjective:
Bad - worse – worst
Good - better – best
Far - farther – farthest
Late - latter - last (order)