Verb
The words which denote action in a sentence, or simply the action words are called verbs.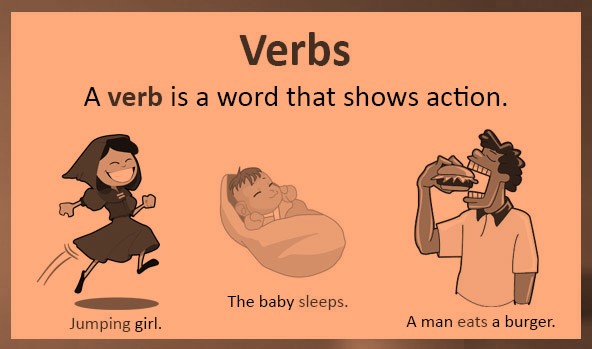 Some Examples:
Ram is playing cricket.
She is watching movie.
Both words written in bold are verbs. They are telling about action on the subject (doer).
It is interesting to note that basic formula of a sentence has 3 fundamental parts:-
Subject + Verb + Object
And verb is one of them!
Forms of Verb:-
V1
(Infinite) = First form of Verb
Lik- Play, Swim
V2
(Simple past) = Second form of Verb
Like- Played, Swam
V3
(Past participle) = Third form of Verb
Like- Played, Swum
V4
Fourth form of Verb
Like- Playing, Swimming
Adverbs
These are words which are used to qualify verbs. In other words, just as adjectives tells about nature of noun, adverb tells about verbs!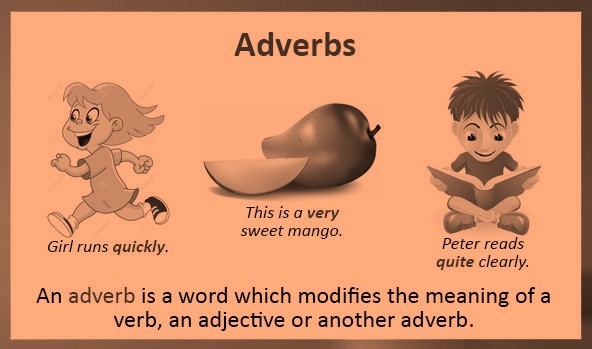 Some Examples
He drives carefully.
She always arrives late.
Both words above in bold are Adverbs and we can see here how they qualify verbs.
Typically it answers HOW an action is taking place, i.e
How he drives = carefully
How many times she arrives late = always
Let's Find Out
Identify verbs/Adverbs in the following sentences
He was driving the car breathlessly.
Ram always beats Shyam.
Rajni ate heartily in the party.
She was running fastly.
Answers
Verb Adverb
Driving. Breathlessly
Beats. Always
Ate. Heartily
Running. Fastly
Recap
Verbs are the words referring to the action of the subject.
Adverbs are the words which are used to qualify verbs in the sentence.